"New media and mobile entertainment are revolutionizing the way people learn about the world." ANON.
Intent
Media at All Saints Academy aims to provide a broad curriculum which develops our students' confidence in critically engaging with media texts of all styles and types and the role it plays within their own lives – with many cross curricular links to English and Business Studies. This qualification has three components that focus on identifying and applying knowledge, skills and practices needed to create media products. The components are strongly interrelated and enable students to investigate how companies research and develop an initial concept into a final product, whilst developing skills for their own future in a media workplace. Students are encouraged to work independently, taking responsibility for their own learning and showing resilience in preparation for future education and career pathways in a vast, creative and constantly shifting industry.
Implementation: BTEC MEDIA STUDIES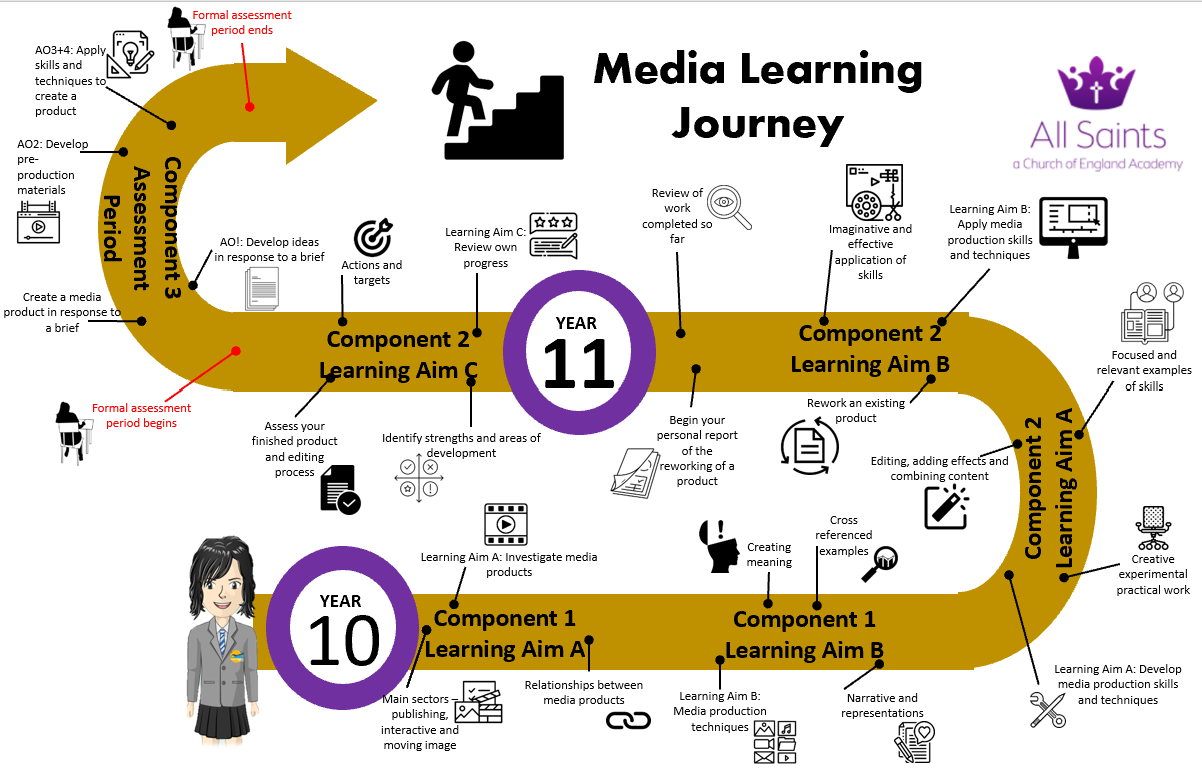 Year 10 Media
The Year 10 Media curriculum builds on knowledge from Year 9 and focuses on deeper understanding and analysis of existing products and the tools used to create them.
AUTUMN 1: INVESTIGATING MEDIA PRODUCTS
AUTUMN 2: IDENTIFYING MEDIA PRODUCTION TECHNIQUES
SPRING 1: IDENTIFYING MEDIA PRODUCTION TECHNIQUES
SPRING 2: DEVELOPING MEDIA PRODUCTIONS SKILLS AND TECHNIQUES
SUMMER 1: APPLYING MEDIA PRODUCTIONS SKILLS AND TECHNIQUES
SUMMER 2: REVIEWING PROGRESS AND DEVELOPMENT OF SKILLS AND PRACTICES
Year 11 Media
In Year 11, students develop intricate planning skills linked to designing and developing a final media product from a set brief.
AUTUMN 1: REVIEWING PROGRESS AND DEVELOPMENT OF SKILLS AND PRACTICES
AUTUMN 2: RESEARCHING IDEAS IN RESPONSE TO A BRIEF
SPRING 1: DEVELOPING IDEAS IN RESPONSE TO A BRIEF
SPRING 2: DEVELOPING PRE-PRODUCTION MATERIALS
SUMMER 1: APPLYING SKILLS AND TECHNIQUES TO CREATE A MEDIA PRODUCT
Impact
Cultural Capital Opportunities
BBC Bitesize workshop
Writing competitions
Film reviews/articles for the newsletter
Into Film Club
Useful Websites
https://qualifications.pearson.com/en/qualifications/btec-tech-awards/creative-media-production-2022.html
Learning Resources