Dress Code
The Academy Dress Code
The academy is committed to a dress code which is practical, reasonably priced, easily available and above all ensures our students are ready to learn safely. We do not want our students to feel pressurised by fashion, cost or to put themselves at risk whilst participating in lessons in any area of the curriculum. These principles inform all decisions made regarding uniform. The dress code of All Saints Academy has not changed since last year, or previous years, we firmly enforce the trouser rule.
Expectations of the Academy Dress Code
Trousers: The trouser rule is clear. Trousers measuring a minimum of 17cm when folded or with a 34cm circumference, at the bottom of the leg will be acceptable. Less than this measurement is not acceptable as the trousers are too narrow and therefore are 'fashion' items. Trousers need to be full length, cropped or 3/4 lengths are not acceptable.
School Shirts and Blouses: Must be able to be tucked in and have a top button and full collar.
Jewellery: Is not allowed in school, other than a watch. Any jewellery confiscated will be placed in an envelope and stored securely. Earrings are not acceptable and students who have had their ears recently pierced will be asked to remove the piercing on the grounds of health and safety. The academy specifically requests that Parents/Carers do not put us in the position of having to ask students to remove earrings from ears which have recently been pierced during term time.
Coats/hoodies/outdoor clothing: must not be worn inside the school building.
Hair colour/Style: Natural hair colours only are acceptable. Students may dye their hair within a range of colours accepted as being 'natural' and one colour should be applied to the whole head. Fashion colours for example; greens, blues, reds, silver-shades etc. are not acceptable. Inappropriate fashion hairstyles are also not allowed. These include; very short 'crew-cut' or shaved hairstyles, extreme styles, decorative shaved elements and motifs.
Make-up: Students are allowed to wear light foundation as we accept this may be important to some students who may feel self-conscious about their skin. However heavy eye make-up, lipstick etc is not acceptable.
False Eyelashes: Are not acceptable and students will be asked to remove them. Salon treatments are expensive and the academy specifically requests that Parents/Carers do not put staff in the position of asking students to remove expensive treatments during term time.
Nail Polish: Is not acceptable, this includes acrylic and gel nails. Salon nail treatments are expensive and the academy specifically requests that Parents/Carers do not put staff in the position of asking students to remove expensive treatments during term time.
Tights and Socks: Tights should be plain black, other colours or patterned tights are not permitted. Socks should be black and may be worn up to the knee, but over the knee socks are not permitted.
Shoes: Low heeled, plain black shoes, without logo or embellishment are required. Please note logos are not permitted, including Vivienne Westwood Gold emblems/Ted Baker bows/Nike ticks/MK metal emblems etc. Trainers, plimsolls or any form of canvas shoe are NOT acceptable. Boots are not acceptable this includes Dr Martens, Ugg, Kickers boots [shoes by Kickers acceptable].
What happens if students do not arrive dressed appropriately?
Students who arrive at school with incorrect uniform will be sent to their Head of House who will investigate the issue further. Parents/carers will also be contacted.
It is likely that students not complying with the uniform rule will be removed from classes to the referral room for lessons or sent home until the situation is resolved.
The academy asks for the support of students and parents regarding the dress code.
If there are genuine reasons why you may not be able to comply with our dress code, we would ask that parents/carers contact their Head of House before students arrive at the academy.
---
Uniform List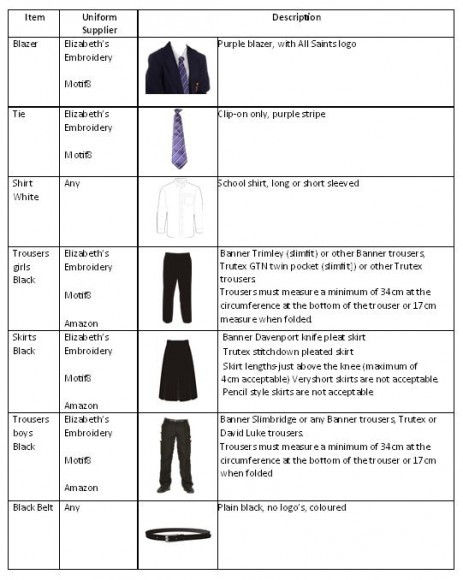 ---
Pre-loved Uniform Shop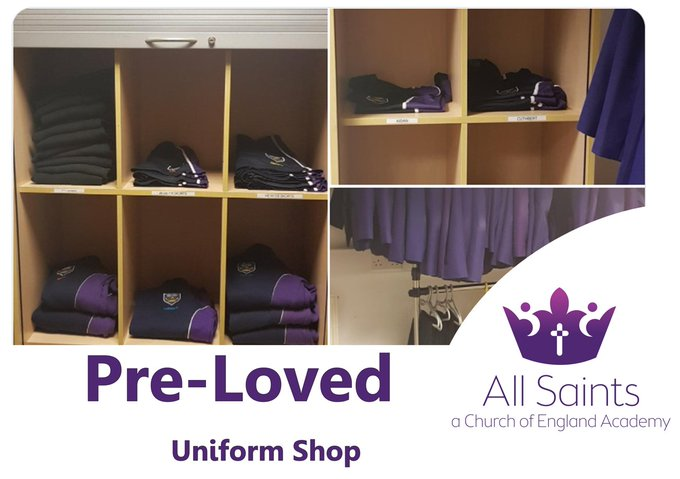 Thanks to the wonderful donations of pre-loved uniform and the hard work of our House assistants we now have our own Academy uniform shop. If you need our support or wish to 'swap' good condition uniform for a bigger size please get in touch.
---
Suppliers
Elizabeth's Embroidery
Motif8