Student Leadership
All Saints Academy has an extensive student leadership programme which is highly valued by our students and staff. The programme encourages all students to take part in a wide range of leadership activities and is run and co-ordinated by students of all year groups.
INTENT
By encouraging students to become involved in a wide-range of leadership activities, we aim to develop students' leadership skills and high-level skills of effective, self-directed learners.
We believe that the work of student leaders adds real value and strength to our school community. From the personalised support offered by our team of peer mentors to the delivery of collective worship to the leading roles taken on by students within lessons, we aim to fully utilise the skills of our students
IMPLEMENTATION
The programme is structured around a number of distinct groups which link strongly with the '5 marks of mission'. 'Teach', 'Treasure', 'Tend', 'Transform' and 'Tell' take leading roles in a number of subject-related projects, ranging from the development of new technologies for learning to peer tutoring in Maths, English and Science to leading collective worship each morning. 'Transform' listen to the views and concerns of students and provide support and guidance within our house structure. All of the groups are co-ordinated by a team of senior prefects who sit within the curriculum and house strategy groups. The two strategy groups meet weekly and determine the strategic direction of the programme.
In addition students can use their leadership experience as part of their Prefect application in Year 10. Opportunities for prefect positions are listed below along with our current cohort. In year 11 Senior Student prefects for both Care and Guidance and Subjects are invited to attend a certificated 'Leadership Development Programme' delivered by the Deputy Head over an 8 week period; this programme allows them to learn about leadership theory, emotional intelligence, team work and how to create SMART goals which will ultimately drive their collective vision.
Student Leadership is aligned with our Cultural Capital programme and is one of our 4 pillars. To read more about our integrated Cultural Capital programme go to /122/cultural-capital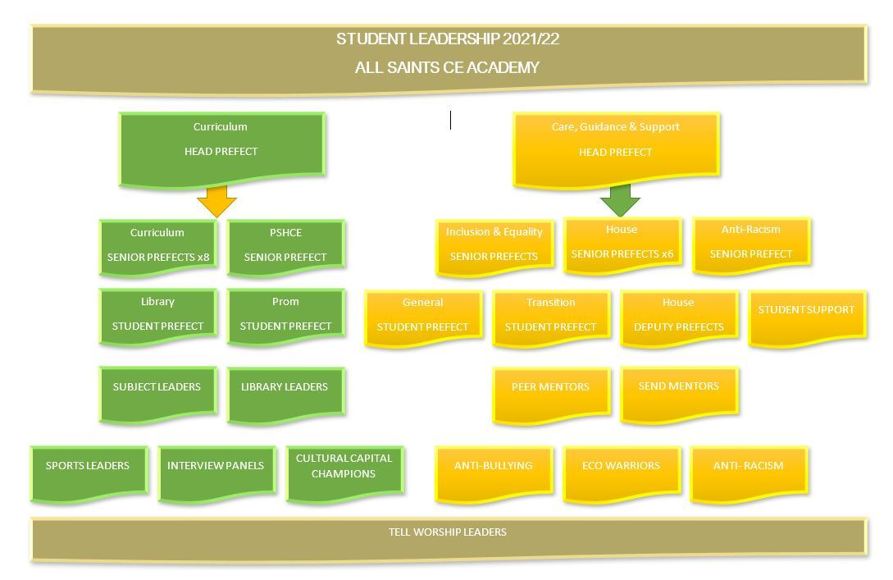 Student-prefect-List-21-22.pdf
Student-Leadership-Opportunities-21-22.pdf
IMPACT
Evaluation-of-Student-Leadership-Development-programme-2021.pdf
Senior Prefects 2020 receiving their 'Student leadership Programme' certificates.