School of Sanctuary Award

A School of Sanctuary is a school that is committed to being a safe and welcoming place for those seeking sanctuary. This could be people whose lives were in danger in their own country, who have troubles at home or are just looking for a space of safety. A School of Sanctuary is a school that helps its students, staff and wider community understand what it means to be seeking sanctuary and to extend a welcome to everyone as equal, valued members of the school community. It is a school that is proud to be a place of safety and inclusion for all. We are working together with our Anti-racism team, Anti-bullying Team and our Holocaust Beacon group to ensure commitment to all areas of inclusivity to ensure that all members of our school feel safe, welcome and supported to thrive.
We have recently appointed 3 new Year 10 Prefects who will work across all of our teams to embedded our values. Our Cultural Ambassadors have worked tirelessly over the last two years to help deliver our message of welcome to all our students and visitors.
We have developed close links with our local refugee charities: Justice First and the Mary Thompson Foundation.
Cultural Diversity Across the Curriculum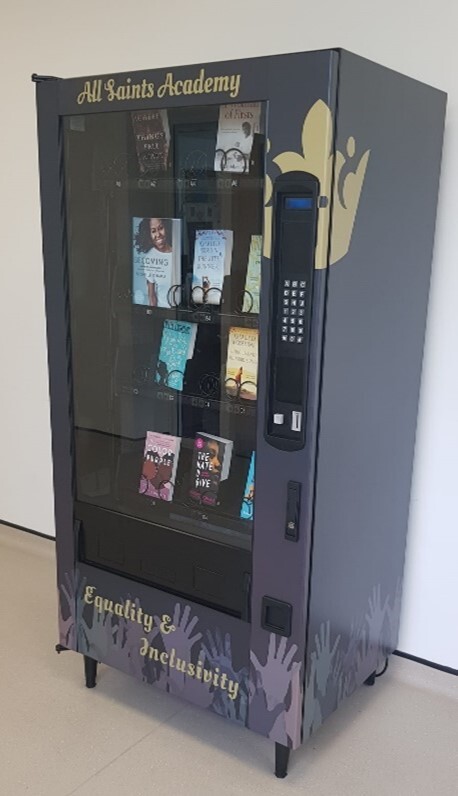 A new vending machine includes books from diverse writers and cultures. Books can be accessed through a special token which is through a Head teacher's special award. We can't wait for this to be a feature in school next year. We also have a beautiful display of Black Literature in our library which includes some fabulous titles.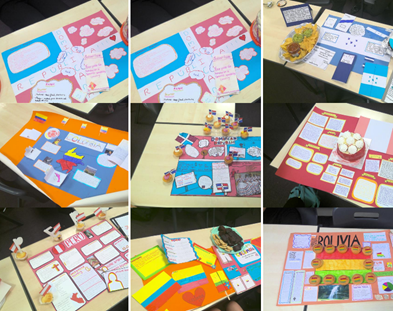 As part of the Spanish curriculum, students in years 7 and 8 complete a research project based on Latin American countries. Students are asked to research different traditions, cultures, geographical and economic aspects. They are also required to make a survival guide and produce something that represents that country for example a recipe, a model or even record some music. By doing this, students gain an insight into how other countries are different to their own and therefore have a greater appreciation of the wonderful differences in our world.
Autumn Term Events
Celebration of 'European Day of Languages' 26th September
Our own Art installation of welcome
Hall Worship that focuses on Courageous Advocacy- standing up and having a voice for Refugees and Asylum Seekers
Linking with our local Refugee Charity Justice First- Non Uniform Day 21st September
Inspire talk from Susan Mansaray - a journalist refugee from Sierra Leone who had to flee because of the work she was doing on women's rights and against FGM: 16th December
Letters for Amnesty International 14th November
Summer Term Events
We will be working towards a celebration event refugee week 23: Community, parents and special guest speakers so watch this space!
If you would like any further information or would like to get involved please contact:
Contact: cwright@allsaintsib.org
Contact: cbuchan@allasaintsib.org
Summer Newsletter 2022: Committed to creating a culture of Welcome and Inclusion
Welcome to our newsletter to inform you about the work we have been doing towards becoming 'A School of Sanctuary.' Becoming a school of sanctuary is incredibly important to us; we want to ensure we are welcoming and inclusive to all visitors and students from across the world.
Mrs Wright is leading the School of Sanctuary and is building a team of 'Cultural Ambassadors' to support our work together. Did you know that in our academy we speak an amazing 24 languages?
We hope that if we were to welcome new arrivals we would be able to buddy up our students to support language integration. If you as a parent or carer are reading this and think you could also help, please do not hesitate to get in touch.
Bringing Cultures Together with a Love of Food
The cultural ambassadors held a celebration evening where they all made traditional dishes and invited a friend along to share the experience. Each student also chose a piece of music from their culture and this was played during the evening. We had food from India, South Africa, Italy and Lithuania. The food was amazing and everyone enjoyed talking about their dishes and explaining the origins and when this food would be eaten.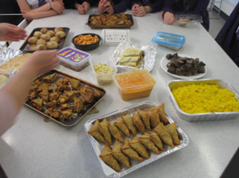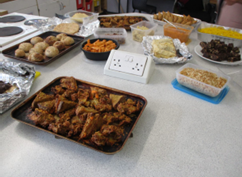 Refuge Week June 20th-24th 2022
Refuge Week June 20th-24th 2022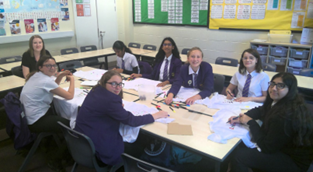 National refugee week took place in June this year. The theme was Healing. Each year there are events that take place around the country to celebrate the contribution, creativity and authenticity of people who have experienced forced migration. The Cultural Ambassadors learned about refugees and the difficult journey they have to make to a place of safety. They made T-shirts and wore them all week to provoke discussion around the plight of refugees and raise awareness of it amongst our school community. Students across school also learnt about refugees during tutor time, watching some video of refugees sharing their stories. By raising awareness, we hope to dispel some common misconceptions about refugees and create an environment where everyone feels safe and accepted without prejudice.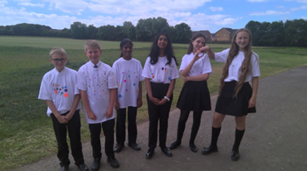 Welcoming Gulwali Passerlay
Welcoming Gulwali Passerlay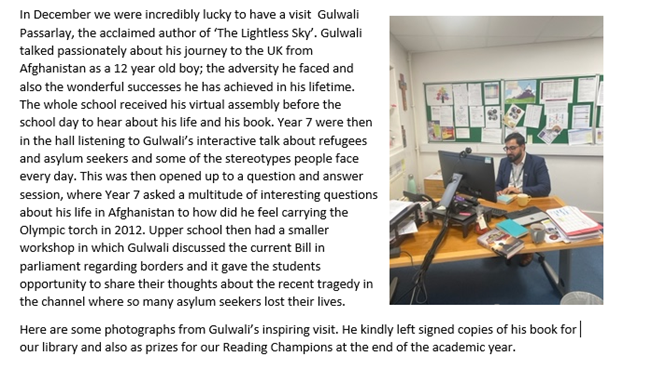 Justice First
Justice First
Next year we are incredibly proud to be supporting our local charity 'Justice First' who are based in Stockton. Justice First help people who are in the final stages of the asylum process to give them the best possible opportunity to support their claim for asylum. They raise awareness of the hardship faced by many families and they also provide a safe and trusting environment where people can tell the story of their refugee journey. They have helped over 700 people in our community.
Our no-school uniform day planned for October 22, will support their work and they will come into school to talk about how the money will be used. This important link to our community will mean that people who have used the charity can share their stories with us and we can use our courageous advocacy to make a difference.
We will share our work with Justice First in our next Newsletter in December.
OUR VISION IS OF A SOCIETY BASED ON A TRADITION OF WELCOME, ACCEPTANCE AND DIGNITY FOR THOSE WHO SEEK SAFETY IN THE UK
If you would like to find out more about their excellent work they have a great website: Justice First
Myth Busting
Myth Busting
Why do people become refugees?
People become refugees for a number of different reasons, including: Persecution based on race, religion, nationality, membership of a particular social group or political opinion. For well over a decade, the number of people forced to flee their homes because of conflict and persecution has steadily increased.
Refugees – Some useful terminology.
Asylum seeker
Someone who leaves their homeland and arrives in another country. They make themselves known to the government and submit an 'asylum application' so they can be seen as a refugee in another country. They have a legal right to stay in the country while their application is processed.
Refugee
Someone who has proven to the government that they would be at risk if returned to their home country. They have had their application for asylum accepted by the government. They can now stay there either long-term or indefinitely.
Migrant
Someone who has left or fled their home to go to new places to seek opportunities or safer and better prospects. This term can mean anyone who has left their country for any reason.
Visit to Dene Academy
Visit to Dene Academy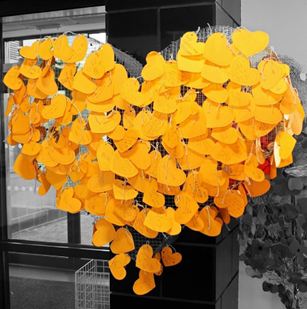 Denr Academy in Peterlee invited Mrs Buchan and Mrs Wright to come and see the wonderful work they had done over the last year in preparation for their successful accreditation as a school of Sanctuary. Part of the important work schools complete as part of SoS is to encourage schools to share best practice and build a wider community of support and welcome.
The school talked at length about the art work they created to support a welcoming entrance to the school, diversity across the curriculum and even the work with Open Door Charity in Middlesbrough to celebrate Refugee Week.
We hope this link with another school will help to strengthen links with our communities and the work we can do together will make a real difference to people seeking sanctuary. Dene Academy's School Council created a piece of installation art to show that everyone is welcome in their school. The Refuge Welcome Heart is proudly placed in their entrance hall as you walk in.