"Don't judge each day by the harvest you reap but by the seeds that you plant" Robert Louis Stevenson.
INTENT
English at All Saints Academy aims to develop a love of the subject which is nurtured and builds upon vital foundations in preparation for GCSE in both Language and Literature. Through English, we promote a passion for wider fiction and non-fiction reading of 19th to 21st Century content (linked to GCSE Language) to enable students to fully access unseen material. This enables students to develop critical and analytical reading skills to understand how writers achieve effects and influence readers. Also, students will develop creativity in both the written and spoken word by adapting tone, style, register and form linked to specific audiences. Throughout the curriculum, we promote awareness of social, cultural, historical and moral contextual factors, enabling students to become better thinkers and more empathetic human beings.
Through utilising a wide range of teaching and learning strategies, we encourage students to work independently, taking responsibility for their own learning and showing resilience in preparation for future education and career pathways. There are three to five one-hour English lessons per week. Students who fall behind in their expected progress can be offered extra literacy lessons. We also provide additional support through our student leaders.
Implementation: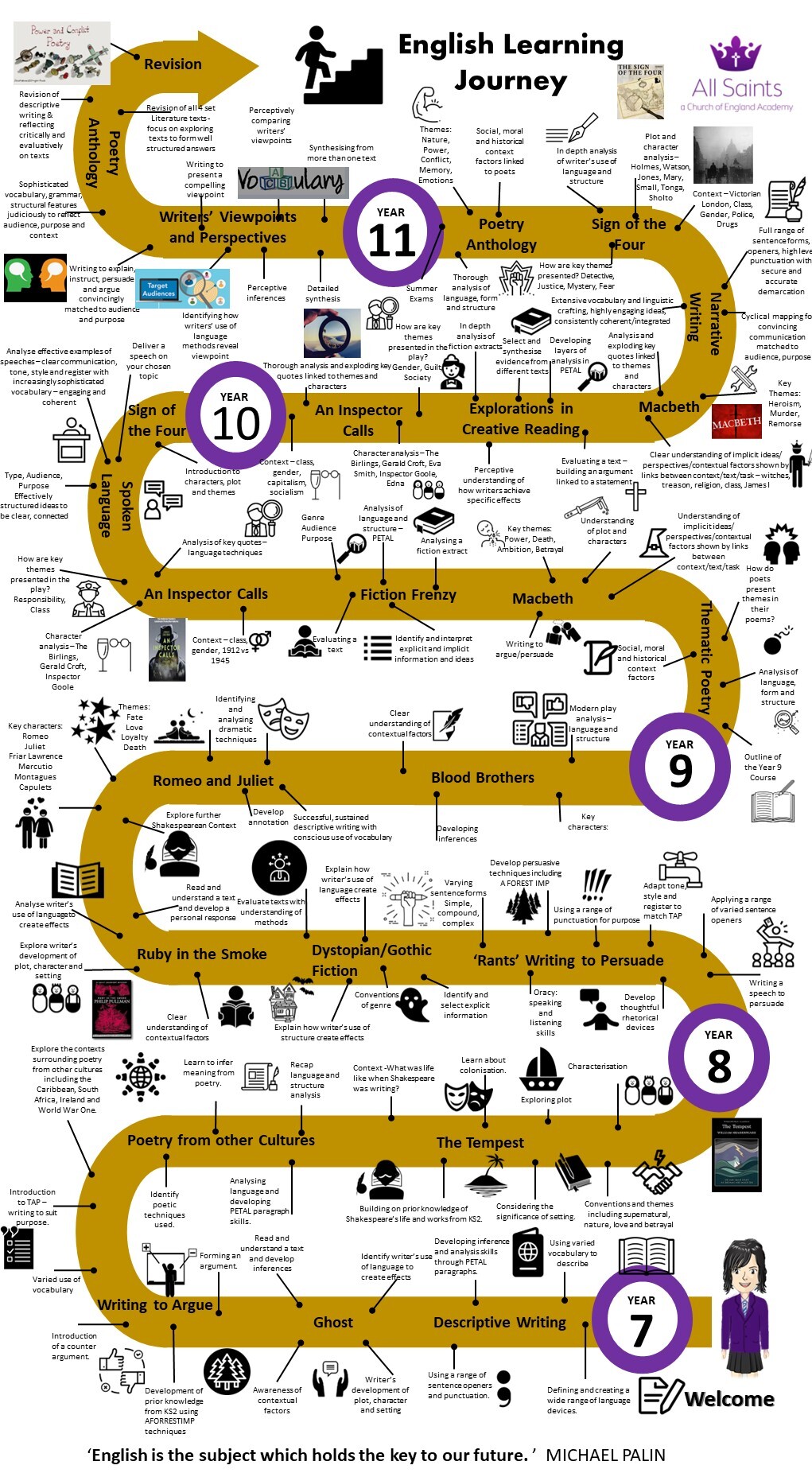 Assessment
Year 7 English
The Year 7 English curriculum prepares all students to express themselves coherently, accurately, and concisely in writing and speech.
AUTUMN 1: DESCRIPTIVE WRITING
AUTUMN 2: GHOST
SPRING 1: GHOST
SPRING 2: WRITING TO PERSUADE/ARGUE
SUMMER 1: POETRY FROM OTHER CULTURES
SUMMER 2: INTRODUCTION TO SHAKESPEARE AND THE TEMPEST
Year 8 English
The Year 8 English curriculum builds on knowledge from Year 7 and focuses on deeper understanding and analysis.
AUTUMN 1: RANTS – WRITING TO ARGUE
AUTUMN 2: DYSTOPIAN / GOTHIC FICTION
SPRING 1: RUBY IN THE SMOKE
SPRING 2: RUBY IN THE SMOKE
SUMMER 1: ROMEO AND JULIET
SUMMER 2: BLOOD BROTHERS
Year 9 English
In Year 9, students are introduced to the literature set texts as we challenge them to develop more analytical viewpoints.
AUTUMN 1: THEMATIC POETRY
AUTUMN 2: MACBETH
SPRING 1: FICTION ANALYSIS
SPRING 2: AN INSPECTOR CALLS
SUMMER 1: SPEECHES
SUMMER 2: THE SIGN OF THE FOUR (SHERLOCK HOLMES)
KS4 English
Students will sit AQA GCSE English Language and AQA GCSE English Literature at the end of Year 11.
The GCSE courses provide access to a broad range of texts from the literary canon, building on their knowledge from Key Stage 3.
English Language
C19 Fiction: reading
Descriptive/Narrative writing
C20 and C21 non-fiction: reading
Transactional writing
English Literature
The Sign of the Four
Power and Conflict Poetry
Macbeth
An Inspector Calls
Year 10 English
In Year 10, students revisit the literature set texts in more depth whilst developing more independent learning skills to prepare them for examinations.
AUTUMN 1: AN INSPECTOR CALLS
AUTUMN 2: FICTION ANALYSIS
SPRING 1: MACBETH
SPRING 2: NARRATIVE/DESCRIPTIVE WRITING
SUMMER 1: THE SIGN OF THE FOUR (SHERLOCK HOLMES)
SUMMER 2: POWER AND CONFLICT POETRY
Year 11 English
In Year 11, students thoroughly revise the literature set texts alongside honing their writing and analytical skills linked to language.
AUTUMN 1: WRITERS' VIEWPOINTS AND PERSPECTIVES
AUTUMN 2: THE SIGN OF THE FOUR / MACBETH MOCK EXAM REVISION
SPRING 1: POWER AND CONFLICT POETRY
SPRING 2: ENGLISH LANGUAGE AND LITERATURE BESPOKE REVISION
SUMMER 1: EXAMINATION PERIOD
Please check AQA for updates: https://www.aqa.org.uk/subjects/english/gcse/english-literature-8702
https://www.aqa.org.uk/subjects/english/gcse/english-language-8700
IMPACT
English Cultural Capital Opportunities
A range of writing competitions
ESU - English Speaking Union Debate Club
Theatre trips
Live performances of set texts
World Book Day activities
Peer mentoring
Blind date with a book P6
Film Club
Reading Leaders
Author Visits
Book Vending Machine
We had our first book reward given out from the vending machine. OC in Y11 has read over 10 books and reviewed them so she got to choose her prize. She chose a signed copy of 'Bea's Witch' by Daniel Ingram-Brown (who visited the academy last year)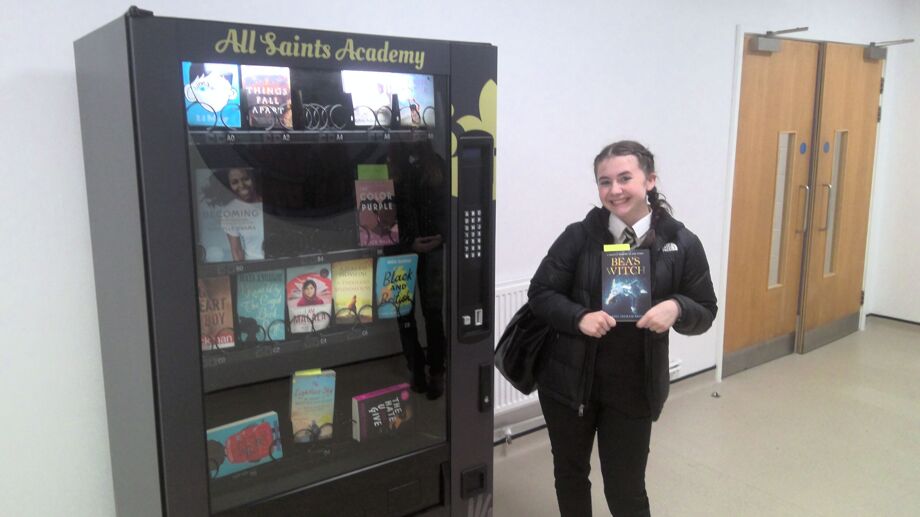 English Prefects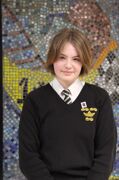 Hello, my name is Jessica, and I became a Senior Prefect because I wanted to challenge myself and put myself out of my comfort zone. Becoming a prefect gives me a chance to do this in ways I couldn't before, by helping other people who might struggle within the academy. Being a prefect is also a good way to give me an early taste of leadership and the responsibilities that come with it. My vison is to make new students feel more comfortable within school and have a passion for English. Additionally, I hope to create a positive atmosphere in the classroom so students will be able to become the best version of themselves in the academy.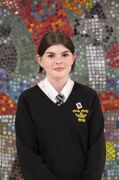 Hi, my name is Jasmine, and I am the English Language prefect here at All Saints. I wanted to be an English Prefect because it's my favourite subject and I want to teach younger students the importance of the subject. This role has made me more confident by challenging me with difficult tasks. My intention is to make new students feel welcomed, and to have a positive mindset to learning. I hope to improve and expand the English P6's to make students feel as though it is helping them.
English suggested reading lists:
The Reading Journeys are used to promote wider reading for pleasure across the curriculum and give students a wide range of fiction and non-fiction to choose from. In English, students are rewarded for making progress through the Reading Journey.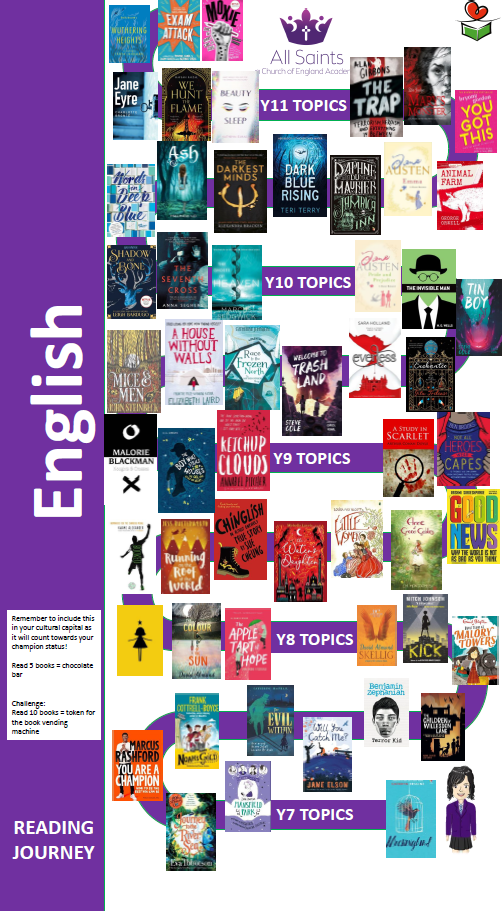 Year 7
Year 8
Year 9
Key stage 4
Click to download out Reading Around the World map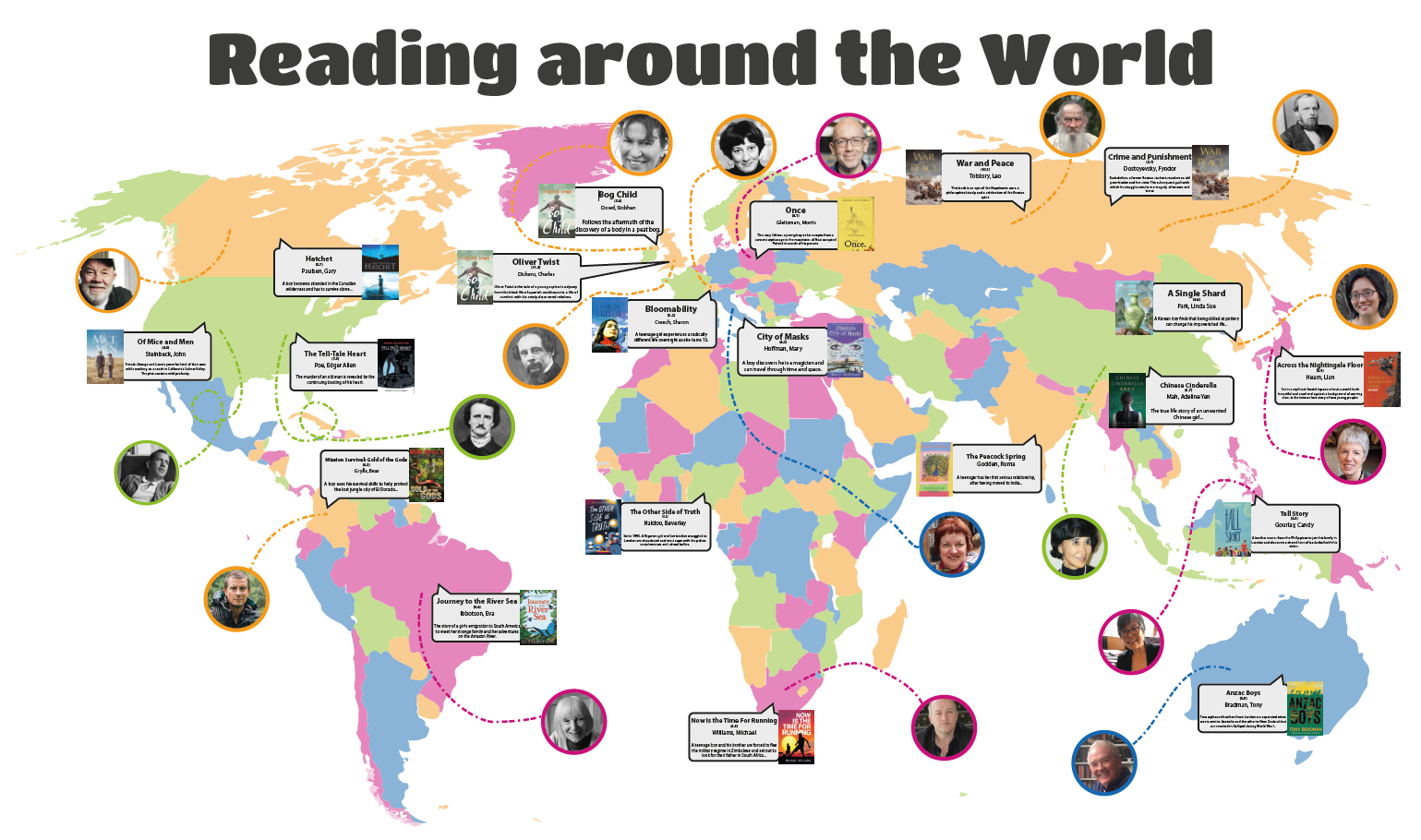 LEARNING RESOURCES
English Key Stage 3 Resources
English Key Stage 4 Resources
Curriculum Outline plans