"As engineers, we are in a position to change the world, not just study it." Henry Petroski.

2022/23
Intent Y7 & Y8
All Saints Academy inspires to equip students to develop and build a love of Engineering. We encourage students to develop ways of communicating ideas across all areas- sketching, 3D modelling, prototyping, CAD/CAM and practical. To understand the different Engineering sectors and how they have developed our modern world today. To identify user needs across all areas of research, design and practical, and to understand the properties and characteristics of a range of materials. Develop an understanding and be able to analyse different designers and architects. We inspire to develop essential skills for future employability and understand the different careers and job roles within different sectors.
Intent Y9-11
At All Saints Academy Engineering is an academic and technical course, in which students investigate a variety of topics, developing sector specific knowledge and skills. Throughout this qualification, students will gain valuable knowledge of engineering disciplines, the science and mathematics that is applied in engineering, how to read engineering drawings, properties and characteristics of engineering materials and know why specific materials are selected for engineering applications. Be able to use a range of engineering tools, equipment and machines, production planning techniques, processing skills and techniques applied to materials for a manufacturing task equipment.
Implementation
2022/2023 Learning Journey
2023/2024 Learning Journey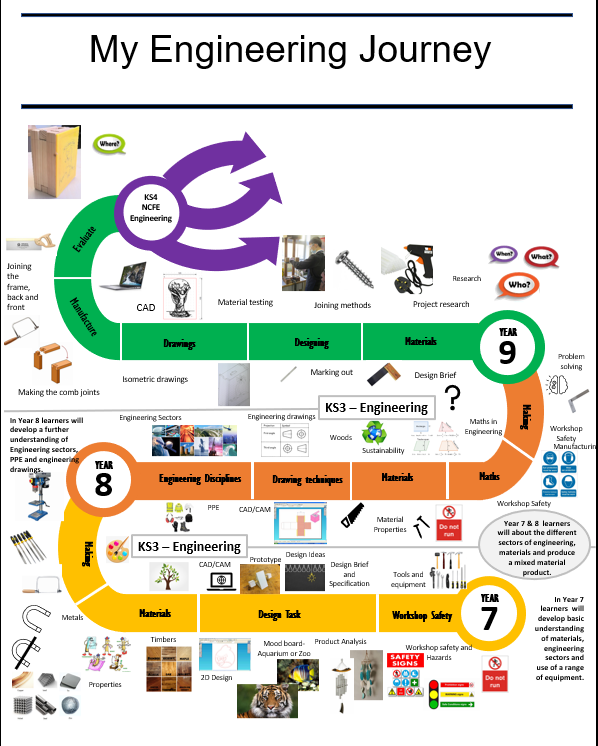 Assessment
KS3
At KS3, students are assessed regularly using "Lemon" assessments.
("L" last lesson, "E" earlier in topic, "M" month old, "O" older than a month, "N" new knowledge), these track student understanding as they progress through the project. Students are also assessed on their designing and making skills – Y7 windchime, Y8 ruler & set square.
KS4 NCFE Engineering
Theory Assessment:
At KS4, students get assessed weekly via an online knowledge test. Students will also complete 9 mark exam questions which will get graded against the exam board criteria. Past exam papers are also used to prepare students for their exam in the spring term of Y10. The theory exam is worth 40% of the overall grade.

Practical Assessment:
Students complete practice synoptic projects to prepare them for their real assessment in Y11. Practice synoptic projects contain tasks which reflect the real expectations set by the exam board. The practical synoptic project is worth 60% of the overall grade.
Impact
Students' Comments
"I enjoy the practical aspect of this course and learning about 'real world' situations."
Cultural Capital opportunities:
Interhouse competitions
Aspire talks
Company talks- The Mill/Il Mulino, Robertsons
Company visits- Chocolate Factory, Quorn, Nissan.
College visits- NETA, TTE, Middlesbrough College, Stockton Riverside, Northern School of Art.
Engineering Prefect
Hello I am Maxim, and I am the senior prefect for Engineering/DT here at All Saints Academy. I am here because during my time in school I have developed a passion for Engineering and other similar subjects and wish to support the subject, building it within the school.
My role generally consists of, helping at Open Days within the Engineering faculty, developing more understanding of the subject itself and the opportunities available with it in post school life and getting more people involved with engineering within the school.
Additionally, my personal hobbies tie into the role as outside of school I often enjoy building and manufacturing various objects with either decorative or practical applications and so through this role I also intend to further develop this enjoyment and passion for engineering within the school.
Learning Resources:
YEAR 7: Engineering Vocabulary List
KS4 NCFE Website: https://www.qualhub.co.uk/qualification-search/qualification-detail/ncfe-level-12-technical-award-in-engineering-4593#SupportMaterials
Engineering Y7 and 8 Key Vocabulary
Engineering KS4 resources