"The important thing is to never stop questioning"

Albert Einstein

intent
In Science lessons, students will be taught to develop a deeper understanding of a range of scientific ideas in the subject disciplines of biology (life processes and ecological relationships), chemistry (reactions) and physics (waves and energy). Students should begin to see the connections between these subject areas and become aware of some of the big ideas underpinning scientific knowledge and understanding.
Through discovery and investigation, students will have the opportunity to challenge ideas, to inspire their curiosity and enquiring mind; enabling students to attain the scientific literacy to create a deeper understanding of the world around us, providing opportunities to be independent learners leading into careers and future prosperity.
Students will use investigations to develop their experimental, analytical, and evaluation skills using the academy learner dispositions of resilience and reflection.
Implementation
Year 7 & 8 Teaching Routes Students in Y7 and Y8 follow the Activate Science scheme. When practical resources are limited, or a class has more than one teacher the teaching order of units may vary. A brief overview of the topics is shown below.
KS3 Teaching Routes
Students from Y7 until the start of GCSE courses follow the Activate Science scheme. When practical resources are limited, or a class has more than one teacher the teaching order of units may vary. A brief overview of the topics is shown below.
Journeys
ASSESSMENT
Students will demonstrate what they have learned and remembered through a variety of verbal and written answers both in and out of lessons which will inform the next steps in learning.
Formative assessment can take many forms during lessons. All Saints Academy teaching and learning sequence engages students in regular activities of retrieval and understanding of key vocabulary.
www.Senecalearning.com and www.Kerboodle.com are online platforms for low stakes testing which use a variety of questioning styles from matching statements, missing keywords to labelling diagrams. They engage students in retrieval activities for mastery of the key information which needs to be remembered. These platforms will usually be set as homework tasks via Teams but can also be used for consolidation of learning. The school code for Kerboodle is fi2.
Summative assessment, or more formal testing, will take place to inform academic data points. In upper school this will be 3 times per year. In 2021-22 summative assessments for lower school students will be more frequent to build a clearer picture of student progress and achievement.
Upper school students can access past paper questions and answers directly from the exam board website.

IMPACT
Students access their learning and work in many ways at All Saints Academy, below is a short video to show some the methods and strategies we use to assess impact lesson have.
Cultural Capital

Life Science Centre, Times Square, Newcastle upon Tyne
Discovery Museum, Blandford Square, Newcastle upon Tyne
Science Museum, Exhibition Road, South Kensington, London
National Space Centre, Exploration Drive, Leicester
Y7 Science Club with Mr. Reid every Monday
Science Prefect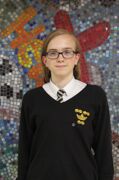 Hi I'm Sam. Ever since I joined All Saints, I have had a big passion for science and have always enjoyed learning in the lessons and contributing to the classes. In year 7 and year 8, I was a quieter individual and because of this, I didn't often share my passion for learning with others, I just kept it to myself. However, as I moved into year 9, I started stepping out into my passion and sharing it with others. In doing this, I joined the Science mentoring team which helps younger students who are struggling with learning which I greatly enjoyed. At this point, my passion for science had grown and I was talking to many people about my passion, and I was proud of it, not embarrassed which was a big change from my time in the early years of secondary school. When I heard about the opportunity for prefect roles in year 10, I knew I wanted to become the senior science prefect as part of the prefect team in All Saints. As senior prefect for science, I plan to share my passion with many more people in the school and hopefully inspire others to follow their passion and embrace the things they love. 
Attend STEM Club

Social responsibility for the environment
Volunteers needed for litter picks and protecting the natural environment.
Opportunities to see nature up close.

Science is one of the few qualifications which is still available at either foundation or higher tier exam. The tier of entry will be decided.
EXAM BOARDS
AQA GCSE Combined Science: Trilogy
Most students will study AQA Combined Science: Trilogy.
There are 6 exams in this qualification, each is 1h15mins each. This is a double award qualification and students will achieve two GCSEs from the combined exam scores in Biology, Chemistry, and Physics. A copy of the specification can be found using the link below.
https://filestore.aqa.org.uk/resources/science/specifications/AQA-8464-SP-2016.PDF
AQA GCSE Biology, AQA GCSE Chemistry, and GCSE Physics
Some students will have the opportunity to study three separate science. Each qualification is achieved from two exams with each one taking 1h45mins. A copy of each specification can be found using the links below.
https://filestore.aqa.org.uk/resources/biology/specifications/AQA-8461-SP-2016.PDF https://filestore.aqa.org.uk/resources/chemistry/specifications/AQA-8462-SP-2016.PDF https://filestore.aqa.org.uk/resources/physics/specifications/AQA-8463-SP-2016.PDF
LEARNING RESOURCES
Year 7 Knowledge organisers for revision
Year 8 Knowledge organisers for revision
GCSE Biology Revision
GCSE Chemistry Revision Resources
GCSE Physics Revision
Trilogy Biology revision resources
Trilogy Chemistry revision resources
Trilogy Physics revision resources