Joining Year 7 in September 2023
Choosing a secondary school is a very important step for parents and children. We would advise that you start to consider your options early, finding out about entry criteria and which school genuinely fits your child best. Children also need time to adjust to the idea of their new school.
As a Church Academy, All Saints do have some additional information to consider if you are thinking about applying for a faith based place.
---
Open Evenings
For the last two years All Saints CE Academy Open Evening has been cancelled due to several Covid-19 outbreaks in school so we are delighted to be able to invite you to visit us on Thursday 6th October 2022 between 5 - 8pm.
Further details will be available in the Autumn term and posted here.
---
Prospectus 2022 (This will be updated after the Summer GCSE results)
View Our ProspectusA copy of our Admissions Policy for 2023, including the Supplementary Form if you are applying for a Foundation place, can be found in the Policy section of our website.
---
Virtual Tour
If you are unable to attend our Open Eveing in October 2022 please look around the school using the tool below.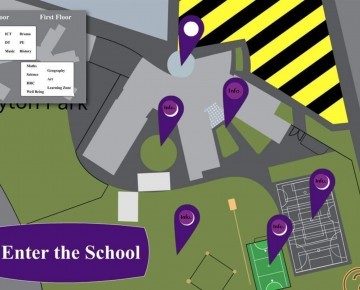 Please take a virtual tour before you watch our subject videos.
---
Subject Videos
English
Maths
Science
Art
Design Technology
Drama
Geography
Physical Education and Wellbeing
History
Information Technology
Languages
Music
Religious Education

.